Gary Cole was recommended to us by friend and client Justine Duncan. A retired insurance executive, Gary was prepared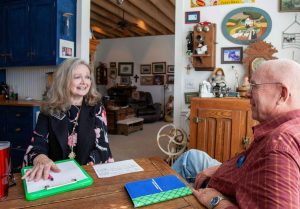 for our first meeting with a legal notepad full of questions. Over the course of a two-hour meeting, we learned that Gary had cared for his ailing wife the last few years of her life. Now that she was gone, he was wanting to downsize. Ten acres with a three-bedroom home, a 200-yard driveway, a pond, a barn, and longhorns to care for was too much for a restful retirement.
Gary and his late wife, Betty, had been avid collectors of all sorts of antiques and memorabilia. They had been regulars at the First Monday in Canton, estate sales, and the many shops that abound in small East Texas towns. After all those years of collecting, the Cole home was crowded with all the treasures they had found. Diplomatically, Andrea let him know that buyers would have a difficult time seeing the home with all those mementos blocking their view.
Andrea assured Gary that we have the staging furniture and accessories to complement the pieces we wanted to stay. Staging is Andrea's passion, and the Cole home presented an opportunity for her to "show her stuff". I knew she wouldn't disappoint, and that when I showed up with my camera gear, she'd have the home looking absolutely ready for photos.
Additionally, there was painting to be done. Over the years we have worked with many painters in the Tyler area and were able to recommend Jennifer Roselieb at Jenrose Designs, who we knew would do a good job and is always up-to-date on the latest colors.
During all this, Gary had been taking notes. We never know how people are going to react to the news that there will be work, and in this case a lot it, to prepare their homes for the retail market. Obviously, in a sellers' market like the one we're experiencing now, it's possible to put a home on the MLS with no preparation, but our experience over the years has been that staged homes sell faster, and at a higher price, than those that aren't staged.
To his credit, Gary was undaunted by the list of to-do's he was facing. We all realized that it would take weeks, even months, to accomplish all we'd discussed. In fact, from our first meeting on March 3rd, it was ten weeks later when we premiered on MLS, Zillow, NTRES, HAR, and LandsofTexas. You can see our listing photos on my website: LarryLynchPhoto.com. To take a look at our before-and-after staging photos, click here.
We received five offers over the first few days, and Gary decided on a cash offer 10% over our list price. We were all pleased with the results, and as a footnote, Gary recently married long-time friend Justine Duncan, the lady who had recommended us to Gary. We are delighted for them.